If you've been drinking too many beers, having too many cocktails, or if you've been eating too much junk food, all you want right now is something healthy and easy to make so you can feel energised and fit again. Well congratulations, you're in the right place. What you just discovered is a list with 20 DIY detox drinks for weight loss and cleansing. All of the following items will be easy to make and even easier to ingest. It might be worth mentioning that you shouldn't leave your fruits and herbs in the water for longer than 12 hours when making infused drinks.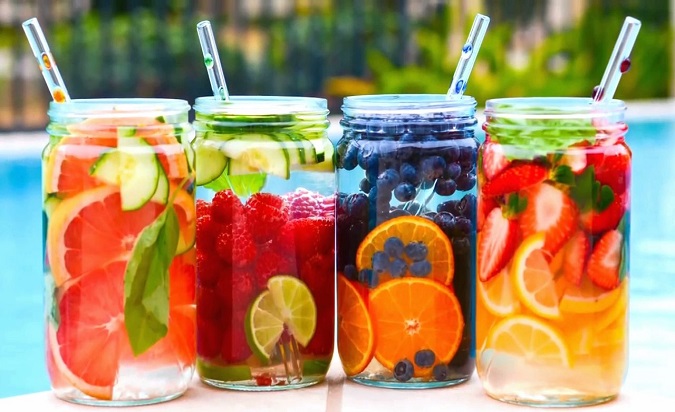 The hipster objective: Kale and Pomegranate
Toss a bunch of kale leaves and some pomegranate in your handy food processor, add some salt and pepper, blend it, and serve with ice.
The forest delight: strawberries, blueberries, and apple
It's as easy as it is delicious. Chuck the three ingredients in a blender and serve with ice. Simple.
The fresh Guav of Bel Air: Mint leaves and guava
Pulse a seeded guava in a food processor, add roughly chopped mint leaves to the juice.
Princess peach: Basil and peach
Run peaches through a food processor, finely chop basil. Fill up half a glass with the peach, add basil, fill up with ice cold water, and stir.
The cool Snow-white: Apple, mint, sea salt
Seed apples, make paste with a food processor, and add finely chopped mint leaves and a pinch of salt to the apple paste. Fill up half a glass and fill the rest with ice cold water, stir well.
Kiwi-coco: coconut water, mint, kiwi
Blend peeled kiwis, add coconut water and the mint leaves, pulse a couple of times, refrigerate a while before slurping down.
Veggie paradise: Celery, carrot, lime
Blend the carrot and celery, add some lime juice, a pinch of salt, and stir well.
Minty Berry: Strawberries and mint

Infuse water with strawberries and mint.
Raspberry cooler: Raspberries
Freeze raspberries, use to cool down water and have a healthy snack after drinking the pink colored water.
Grapefruit infusion: Grapefruit and mint
Add thick grapefruit slices and mint to a jug of water, let it sit overnight.
Mellow basil: Watermelon and basil
Infusing these two ingredients will result in the perfect summer drink.
Black Mary: Blackberry and rosemary
This is probably the fastest one. Let the rosemary and blackberry sit in a pitcher for a couple of hours and you're all done.
Blue and Orange: Blueberries and orange
A wonderful infusion that will rock your socks off.
Virgin mojito: lime, mint, brown sugar
Let these three ingredients sit overnight for an awesome summer drink.
Pearilla: Pear, vanilla, cinnamon
Another awesome infusion, don't use powders for the best results.
The rainbow: all of the citrus fruits
Stack as many different citrus fruits as possible in a mason jar, fill with water and let it sit overnight.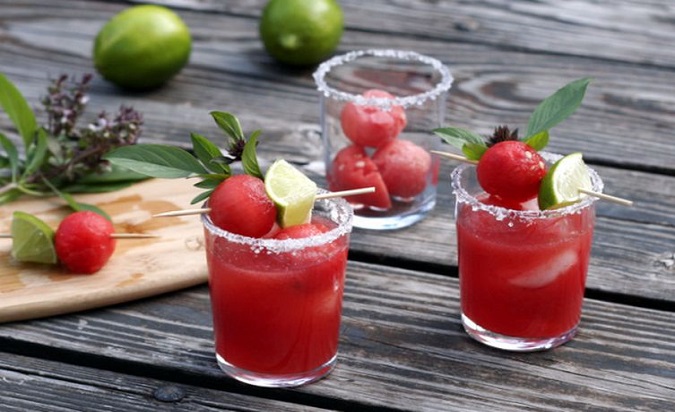 The red hottie: Jalapeno and strawberries
Get rid of your runny nose in an instant with this unexpected infusion
The Ginger: Peaches and ginger
Watch your water turn orange. This will help with your digestion.
The Original: cucumber, lemon, mint
Slice cucumber and lemon, infuse slices with mint overnight. Yum.
The Rose-da-mom: Cardamom and rose petals
As soothing as a long hot bath. Infuse both ingredients overnight.